Russia deal puts Turkey on path to become nuclear energy nation
Turkey moved closer to becoming a nuclear energy nation after inking a deal with visiting Russian President Dmitry Medvedev to build a nuclear power plant on the Mediterranean coast.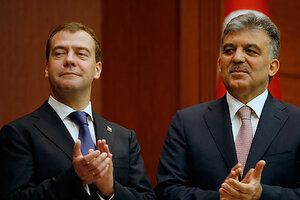 Burhan Ozbilici/AP
Turkey has taken a big step toward being a nuclear energy nation by signing a deal with Russia on Wednesday to build its first nuclear power plant on the Mediterranean coast.
The project – along with a pipeline plan to bring Russian oil overland from the Black Sea to a refinery on Turkey's southern coast for export to Europe, and a host of other measures – was signed during a visit here from Russian President Dmitry Medvedev.
"By taking these steps, Turkey is taking its position as an energy hub to a much different level," said Turkey's Prime Minister Recep Tayyip Erdoğan. "The solidarity with Russia on this issue is of utmost importance."
Mr. Medvedev was also effusive: "This agreement opens a new page in our cooperation…. Our talks today showed that Turkey and Russia are strategic partners not only in words but in deeds," he said.
Turkey expands influence
The energy deals are part of NATO-ally Turkey's broader strategy to expand its influence in the region and become an energy corridor between East and West, while also serving as an increasingly important diplomatic player seeking to help resolve Iran's nuclear standoff with the West and the Israeli-Palestinian conflict.
---