Paris art heist: The alarm that didn't sound, the dog that didn't bark
A day after the $123 million Paris art heist, revelations emerged that hinted of an inside job. A malfunctioning alarm was too quiet for guards to hear.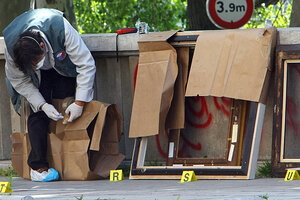 Jacques Brinon/AP
A day after the stunning $123 million heist of art that Paris authorities now say was not insured, fresh revelations are beginning to echo loudly in efforts to reconstruct how five modernist masterpieces could have been stolen in early dawn hours Thursday.
Apparently, the alarm at the Paris Museum for Modern Art was too quiet for guards to hear.
While Paris city authorities, including Mayor Bertrand Delanoe, said Wednesday that the museum's alarm system was malfunctioning, deputy mayor for culture Christophe Girard elaborated today on the point. He told journalists that the device that shrieks the alarm was essentially not working – a substantial argument for an inside job, since the thief would have had to know the circumstance.
Even more embarrassing, the malfunctioning alarm was reported to security company Spie on March 30 but had yet to be fixed.
IN PICTURES: Famous art heists
Five of the world's most famous representative modern paintings were stolen when the thief sawed off an outside window grill lock, removed both the window and its frame, then took 15 minutes to slice the canvases out of their frames. An internal CCTV camera caught for a few seconds a darkly dressed, bulky figure wearing a ski or skull cap, before he adroitly avoids the camera's radius – suggesting familiarity with the security system.
---