Russia: sanctions unlikely to delay Iran nuclear power plant
Russia may back tougher, US-sponsored Iran sanctions, but it still expects to finish building the Bushehr nuclear power plant and selling Iran advanced weapons systems.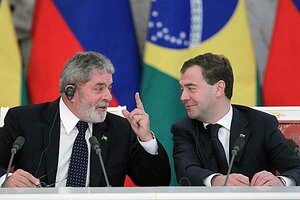 Sergei Chirikov/Reuters
Russia may be lining up to support a US-sponsored resolution calling for tougher sanctions against Iran in the United Nations Security Council, but that does not seem likely to interfere with key deals between Iran and Russia. Russian contractors will likely complete construction of Iran's Bushehr nuclear power plant, it was announced this week, and Russia may continue to sell sophisticated arms to the Islamic Republic.
Moscow's willingness to back the new sanctions, which include a partial arms embargo and financial strictures, represents a significant evolution of Russian policy from its previous rejection of such strong measures.
But there are limits. President Dmitry Medvedev's wish to move toward a more pro-Western orbit, outlined in a leaked foreign policy review last week has already run up against resistance from vested interests in Russia's military-industrial establishment, experts say.
---