After Russian coal mine disaster, questions about TV censorship
Miner protests forced the government to grapple with a Russian coal mine disaster in western Siberia, say critics. But the protests were ignored by the country's dominant government-owned and government-linked TV networks.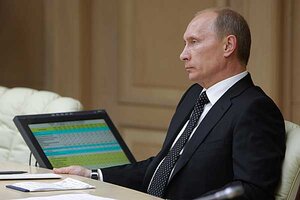 Alexei Druzhinin/RIA-Novosti/AP
Criticism of Russia's three big state-guided TV networks is swelling over their alleged failure to offer objective coverage of one of Russia's coal mine disaster earlier this month. Largely ignored were miners' protests put down by riot police and complaints by survivors of poor pay, arduous working conditions, and lax safety standards.
The twin methane explosions that virtually destroyed Russia's largest coal mine two weeks ago in western Siberia were were among the country's worst mining tragedies and killed at least 67, with 23 still missing.
Most Russians learned about the accident at the Raspadskaya mine from one of the three big nationwide TV channels, all of which are either state-run or controlled by Kremlin-friendly business interests. A week later, viewers saw Russian Prime Minister Vladimir Putin hold a familiarly theatrical press conference to reprimand local officials and urge Raspadskaya's director to resign -- which he immediately did.
---