France, Germany at odds as euro continues to tumble
France and Germany disagree over the best way to handle Europe's sovereign debt crisis and their collapsing common currency, the euro. Some analysts think it could strain European unity.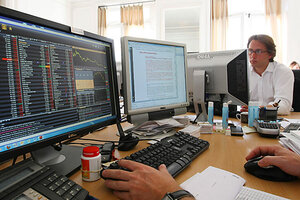 Jacques Brinon/AP
France is at terrific odds with Germany over the eurozone's debt woes, a sign that what started as a Greek debt crisis is becoming a crisis of European unity, with unforeseen social and political as well as economic downsides.
The euro has lost 14 percent of its value against the dollar since the start of the year and is hovering near a four-year low on concerns that the mounds of government debt in a number of eurozone countries amounts to a ticking time bomb. The euro has continued to slide despite the creation of a $1 trillion reserve bailout fund and a $140 billion bailout for Greece earlier this month. The unveiling of austerity plans in Italy, Greece, Spain, Portugal, and Ireland has also done little to reassure investors.
European solidarity is in danger – though some analysts say that unity on the continent has always been achieved by hammering out differences in periods of crisis.
---