Why Mexico welcomes Obama's plan to send 1,200 US troops to border
Departing from its complaints about the Arizona immigration law, Mexico cautiously welcomes President Barack Obama's plan to send 1,200 troops to the border.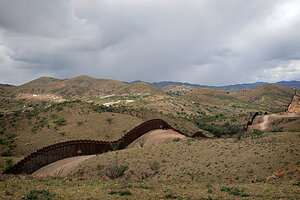 Matt York/AP
The Mexican government all but praised President Barack Obama's decision to send 1,200 troops to the border, in a departure from the usual complaints about the US immigration enforcement policies.
Unlike President Felipe Calderon's fiery opposition to Arizona's immigration law or his calls for a new immigration policy, Mexico's official reaction to the deployment of US National Guardsmen near the border has been measured, even as the public response has been mixed.
The troops will "strengthen efforts to combat transnational organized crime," the Foreign Affairs Ministry said in a statement, which predicted the guardsmen will not be involved in immigration enforcement. The ministry also wrote of a "shared responsibility" in fighting drug traffickers and called for additional resources to prevent arms and cash smuggling into Mexico.
IN PICTURES: The US/Mexico border
Some Mexicans said they respected the United States' right to send armed forces to protect its citizens. Mexico, after all, is battling drug cartels on this side of the border. Others saw it as a ruse to target undocumented migrants:
---
Follow Stories Like This
Get the Monitor stories you care about delivered to your inbox.