Russia bombing: Jihadis or sign of other trouble in north Caucasus?
A Russia bomb that killed six people in the Russian city of Stavropol has led to speculation about jihadis or Islamic militants. But analysts worry about a widening circle of instability – and players – in the north Caucasus.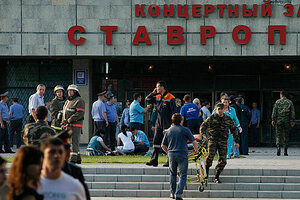 AP
A deadly Russia bomb that killed six people and wounded 40 outside a theater where a Chechen dance group was about to perform in the southern Russian city of Stavropol has security experts worrying that the circle of instability in Russia's troubled northern Caucasus may be widening.
Unlike the Moscow metro bombings of two months ago, which were carried out by suicide bombers from the north Caucasus republic of Dagestan and claimed by Islamist "emir" Doku Umarov, analysts are not so sure that the latest bombing fits neatly into the jihadis vs. Russia narrative that is favored by the Kremlin.
"There are a lot of suspects in the Stavropol bombing, and we shouldn't jump to conclusions," says Andrei Soldatov, editor of the online journal Agentura.ru, which reports on the security services. "It speaks of rising instability around the north Caucasus region. We may be seeing some dangerous new developments."
---