Condemnation across Europe after Israel raid on Freedom Flotilla
European governments and their citizens appeared united in their criticism of an Israel raid that killed at least nine activists on the so-called Freedom Flotilla seeking to bring humanitarian aid to Gaza.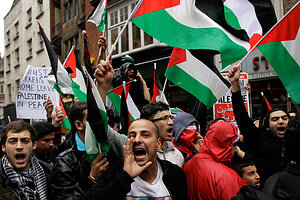 Matt Dunham/AP
European official and public reaction to an Israeli raid that killed at least 9 members of the self-styled "Freedom Flotilla" bound for Gaza on Monday has been uniformly condemnatory.
European publics had, to some extent, viewed Israel with more sympathy in recent years, reflecting their own fears of Arabs and Muslims since the 9/11 attacks on the US. But that small shift towards Israel seems to be over.
"For some time there has been a new kind of tolerance for Israel here. But Israel is coming to the end of this; it has over-exploited the sympathy," says Dominique Moisi of the Paris-based French Institute of International Relations, who was in Israel yesterday. "There is a growing rift between Israel and the rest … part of a process of Israel's self-isolation."
IN PICTURES: The Gaza flotilla and the aftermath of the Israeli naval raid
Merkel, Sarkozy, Cameron criticize Israel
---