Georgia elections a triumph for Saakashvili
The first Georgia elections since the country's defeat in its brief war with Russia in 2008 were a triumph for President Mikhael Saakashvili. His party rolled to victory in major cities, and observers said the poll was reasonably fair.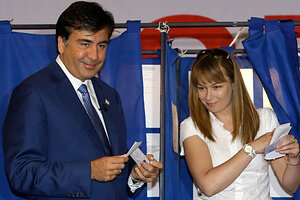 David Mdzinarishvili/Reuters
The ruling party of Georgian President Mikhael Saakashvili triumphed in Georgian elections over the weekend that were the first electoral test for Mr. Saakashvili since Georgia's disastrous 2008 war with Russia.
International monitors and local critics said the outcome was basically acceptable, despite numerous complaints of official support for the ruling party and voting irregularities. Turnout was low, under 50 percent in the capital, Tbilisi, and in several other major towns.
In the key contest for mayor of Tbilisi, the pro-Saakashvili incumbent Gigi Ugulava took more than 55 percent of the votes. Former United Nations ambassador Irakli Alasania, the most prominent member of a field of eight opposition candidates, came in a distant second with just 19 percent.
In municipal races around this tiny nation of 4.5 million, Saakashvili's United National Movement appeared to have won about 60 percent of the votes cast. "The final result is that democracy has won in Georgia," Saakashvili told supporters after the results of Sunday's voting became clear.
But critics say the outcome owes more to the fragmented and fractious character of the opposition, who were unable to field a united candidate even in the critical Tbilisi race, than to Saakashvili's popularity, which has been badly dented by a string of scandals.
---