Dutch voters boost far-right party of Geert Wilders
Spurred by anxiety over immigration, Islam, and the economy, Dutch voters put the center-right Liberals in the lead in national elections, and gave a strong boost to Geert Wilders's Freedom Party, which proposes banning the Koran and the building of new mosques.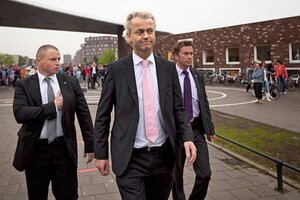 Cynthia Boll/AP
The Dutch woke up Thursday morning to a striking new right-leaning political reality after Wednesday's national elections ratified both a conservative emphasis on austerity and a populist push against immigration and Islam.
It was the first European elections since the Greek debt crisis put the euro in a funk – and results proved so fragmented that forming a ruling Dutch coalition will be difficult and may take months.
The budget-cutting center-right Liberals (conservatives in US parlance) under Mark Rutte gained the most seats, 31. But the center-left Labor Party took 30, led by former Amsterdam mayor Job Cohen, who ran on a "bridge-building, hate-busting" campaign.
Mr. Rutte ran on cutting spending by more than $50 billion in coming years. Should the telegenic and youthful politician cobble together a like-minded coalition, it would mark the first conservative Dutch government in a century. He told reporters Thursday that "I would like to see a new cabinet put together as soon as possible because of the seriousness of the economic crisis."
If Mr. Cohen should prevail, he would be the Netherlands' first Jewish prime minister – and would represent a formidable bully pulpit against a growing chauvinist feeling in the country. Cohen is known for bringing calm to Amsterdam after the assassinations of anti-immigrant figure Pim Fortuyn and Theo Van Gogh, whose anti-Muslim film caused a furor, and brought fear and anger to the usually mild city several years ago.
---