Eyeing BP oil spill, British question if North Sea oil firms also push bounds of safety
The BP oil spill has drawn attention to companies' safety records in the North Sea, where an oil rig explosion killed 167 men three decades ago. A coauthor of a report on that catastrophe says that practices have changed little since then.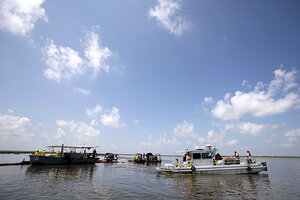 Charlie Neibergall/AP
As British Petroleum and the US try to rein in the BP oil spill sparked by explosions on the Deepwater Horizon rig, some in Britain allege that lax safety practices in its North Sea oil fields could lead to a similar catastrophe there.
Britain tightened rules on its oil industry, which is centered in the unforgiving waters of Europe's North Sea, after 167 men were killed in a series of explosions almost exactly 32 years ago on the Piper Alpha oil platform. The platform was run by Occidental Petroleum Caledonia off Scotland's northeast coast.

But as Britain looks for increasingly rare drilling opportunities to ease an economic crunch, oil companies have come under fire for pushing the bounds of environmental responsibility and employee safety standards. Indeed, some oil industry experts say energy companies have largely failed to improve their safety record in the North Sea since the Piper Alpha disaster.
IN PICTURES: The Gulf oil spill's impact on nature
---