Amanda Knox not guilty, says Italian mafioso
Amanda Knox is serving a 26-year sentence for murder in Italy. Will new testimony – and forensic evidence – be enough to overturn her conviction?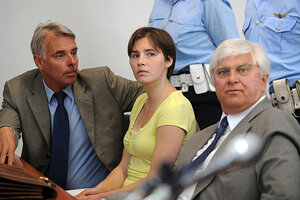 Fabrizio Troccoli/AP
The extraordinary saga of Amanda Knox, the American student convicted of killing her British roommate in Italy, has taken a new, quintessentially Italian twist.
An Italian mafia turncoat claims that his brother killed the 21-year-old British woman, Meredith Kercher, during a bungled robbery and that Ms. Knox, from Seattle, is entirely innocent.
The claim will form part of the appeal that Knox's Italian lawyers are preparing and which is expected to be heard this fall. There are two levels of appeal in the Italian judicial system. At the first level, analysts say, this new testimony might get Knox's sentence reduced. On the second level, which could be two years or more away, it might overturn her conviction.
The new claim gives the former University of Washington student fresh hope in the fight to overturn her 26-year jail sentence, handed down by a court in Perugia at the culmination of a year-long trial that received intense media coverage on both sides of the Atlantic.
The mafia turncoat, Luciano Aviello, claims that he and his brother, Antonio, were living in Perugia, the walled medieval town in Umbria where the murder took place in November 2007. He has told Knox's defense team that one night his brother returned home with an injury to his right arm and his jacket covered in blood.
"He said he had broken into a house, where he had killed a girl, and then had run away," Mr. Aviello told Knox's lawyers, according to an Italian news magazine, Oggi.
---