Saville report on Bloody Sunday massacre exonerates victims
Nearly 40 years after 14 Catholic civil rights marchers were killed by British soldiers in Derry, Northern Ireland, the UK's Saville report on Bloody Sunday exonerated the marchers. But prosecutions look unlikely, analysts say.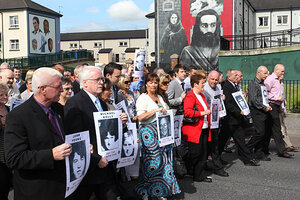 Peter Morrison/AP
All those shot dead by the British Army in Northern Ireland's infamous Bloody Sunday massacre in 1972 were unarmed and innocent, according to a British government report released today that repudiated an earlier investigation that had accused the civil rights marchers of carrying weapons and provoking the violence.
The long-awaited Saville inquiry into the killing of 14 people and the injuring of 29 more in the city of Derry on Jan. 30, 1972 criticized the soldiers and officers involved and said they gave false testimony about the events of the day to deflect blame onto their victims.
The Saville report, the result of the longest and most expensive investigation in British legal history, should bring some measure of closure to one of the ugliest and most contested chapters in the history of Northern Ireland's "troubles." The official Widgery report of 1972 had exonerated the Army, claiming that soldiers came under fire and that forensic evidence showed those killed handled explosives.
The relatives of the dead considered the report a whitewash, and have been fighting for years to set the record straight. The report released today, which took 12 years and £195 million ($287 million) to complete, appears to do just that.
British Prime Minister David Cameron apologized to the families of those killed. He said he was "deeply sorry" and that the findings were "shocking ... what happened on Bloody Sunday was both unjustified and unjustifiable. It was wrong."
There had been much speculation that lawsuits and possible prosecutions would follow. But the report, whose lead author is the former judge Lord Saville, did not refer to the actions as "unlawful killings," something that analysts said makes prosecutions unlikely.
---