Poland election: Can late president Kaczynski's twin brother pull off an upset?
Parliament speaker and acting president Bronislaw Komorowski is expected to win the first round of the Poland election on Sunday, but.Jaroslaw Kaczynski has been rising in the polls.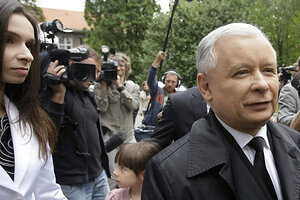 Petr David Josek/AP
More than two months after the tragic plane crash in Smolensk, western Russia, which killed Poland's President Lech Kaczynski, his wife, and 95 state officials, Polish voters are set to elect the country's new president.
The two most prominent contenders in the Poland election are Parliament Speaker Bronislaw Komorowski from the ruling Civic Platform (PO), who has been serving as acting President since the April 10 death of President Kaczynski, and Jaroslaw Kaczynski, the late president's twin brother and leader of the opposition Law and Justice party (PiS).
Most polls have given Mr. Komorowski a clear lead over Mr. Kaczynski, some even suggesting he could be elected with more than 50 percent of the vote in the first round. But this advantage has been narrowing at the campaign's end. Analysts say that this is due to Mr. Komorowski's low-profile campaign, as well popular discontent over the government's action in response to heavy floods that hit Poland in May, causing serious damage throughout the country.
Wobbly polls
---