Why Russia is cutting off gas supplies to Belarus
Russia is again using gas as a foreign policy tool to alter behavior of its neighbors. It wants Belarus President Alexander Lukashenko to join a new customs union championed by Russian Prime Minister Vladimir Putin.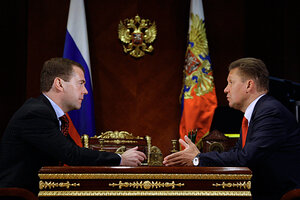 Dmitry Astakhov/Kremlin/RIA NovostiReuters
Russia began shutting off gas supplies to its neighbor Belarus on Monday, in an energy dispute with familiar political undertones.
Experts say the dispute is unlikely to affect downstream customers in Europe – which depends on Russia for more than a quarter of its gas – as previous spats with Russia's neighbor Ukraine have frequently done. Belarussian pipelines carry just 20 percent of Russian exports to Europe and demand is much lower now due to warm summer temperatures.
But the shutdown does reflect ongoing Russian willingness to use energy as a tool of foreign policy, experts say.
Moscow has reportedly been losing patience with Belarussian President Alexander Lukashenko, who talks a strong pro-Russian game but actually pursues an independent course that increasingly conflicts with the Kremlin's wishes.
In recent months, Mr. Lukashenko has dug in his heels against joining a Belarus-Kazakhstan-Russia customs union being championed by Russian Prime Minister Vladimir Putin, has demanded duty-free Russian oil as the price of further cooperation, and has given refuge to ousted Kyrgyzstan leader Kurmanbek Bakiyev, some say against the Kremlin's wishes.
---