Swedish oil company under scrutiny after Sudan war crimes report
An official investigation has been launched after a report alleging Sudan war crimes by Swedish firm Lundin Petroleum. The Swedish foreign minister was on Lundin's board at the time under investigation.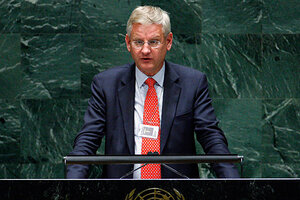 Chip East /Reuters/File
Swedish public prosecutor Magnus Elving launched a formal investigation Monday sparked by allegations that an oil consortium led by Swedish firm Lundin Petroleum may have been complicit in "war crimes and crimes against humanity" in Sudan. The case, which has links to Sweden's foreign minister, has raised questions about international obligations of companies to safeguard human rights in conflict zones.
The investigation into the alleged activity, which occurred between 1997 and 2003, resulted from a recent report by the European Coalition on Oil in Sudan, or ECOS, a group of 50 European NGOs.
The ECOS report argues that "the home governments of Lundin [Sweden], Petronas [Malaysia] and OMV [Austria] have failed in their international obligations to prevent human rights violations and international crimes." It further charges that the consortium "may have been complicit in the commission of war crimes and crimes against humanity."
ECOS hopes the criminal investigation in Sweden will have a far-reaching impact.
Percy Bratt, who is representing ECOS, says that one of the group's goals in producing the report is the establishment of effective "limits for companies working in these types of conflict areas with regimes that are committing human rights violations." ECOS has also stated that it wants to push each country to speak with one voice on human rights.
---