England vs. Slovenia: Old Blighty breathes a sigh of relief
The entire nation seemed to breathe a sigh of relief today as England advanced to the second round of the World Cup after outlasting Slovenia, 1-0.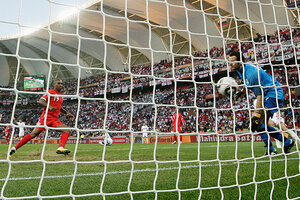 Darren Staples/Reuters
It has not been a great World Cup for Britain so far.
"But at least we're not French!" points out Wayne Leedham, a London taxi driver, referring to the nosedive taken by the French team.Mr. Leedham took the afternoon off Wednesday to watch the national team squeak into the next round with a 1-0 victory over Slovenia. "We have restored our dignity," he said, "for now."
Dave Up, who works for a flooring company, took the whole day off to cheer for Britain, a country that prides itself on being the veritable inventor of the game, but which has had a very faltering start in this World Cup.
IN PICTURES: Top 2010 World Cup controversies
"I needed to prepare myself mentally, if we were going to lose," he said.
So far, the national team's efforts have amounted to a draw against the US and another against Algeria, not to mention a controversy surrounding former captain John Terry's comments about the low mood in the camp.
"If worst comes to worse, there is always Wimbledon," suggests Leedham gamely. "We still have Andy Murray to make us proud!"
---