Le Monde rejects Sarkozy intervention in media sale
A battle for control of the ailing French newspaper Le Monde is over. A business group favored by French President Nicolas Sarkozy withdrew its bid after journalists on the newspaper voted against it.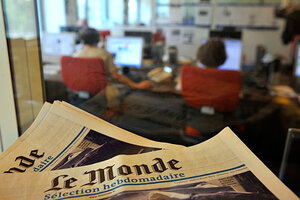 Philippe Wojazer/Reuters
Le Monde – a newspaper so established in France it is sometimes called "the record" – was approved for sale today, ending a drama over two symbolic bid-groups, the loser of which was personally backed by President Nicolas Sarkozy.
The sale of Le Monde increasingly became seen as a left-right political fight over media control in an era when Mr. Sarkozy's closest friends run several of the top media groups in France. And the ownership controversy took place within the context of the coming 2012 presidential elections.
Earlier today the Sarkozy-favored group withdrew after 90 percent of the paper's journalists – outraged over Mr. Sarkozy's intervention – voted against that bid, citing problems of editorial independence.
The new trio of owners, approved by a narrow 11 of 20 votes by the Le Monde board, all have close ties to the opposition Socialist Party. They include Pierre Berge, a wealthy industrialist, gay-rights activist, and long-time partner of the late fashion tycoon Yves St. Laurent; Matthieu Pigasse, a pop-music magazine owner and banker; and billionaire telecom maven Xavier Niel, who started his fortune in soft porn and has ties to Dominique Strauss-Kahn, current International Monetary Fund chief and a likely opponent of Sarkozy in 2012.
---