World Cup 2010: A short course in flirting
For 25 pounds, a social anthropologist provides a flirting and walking tour of London, to help folks find a date – even during World Cup 2010.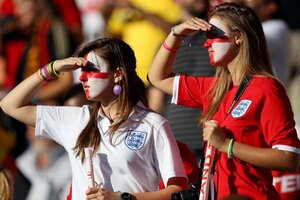 Newscom
Does the global focus on the World Cup have to wreck romance? Or prevent you from finding a date?
No and no, says Jean Smith, a social anthropologist and expert on the art of flirting. "Nothing, and I repeat nothing, should stand in the way of flirting," she emphasizes. And winks.
It's evening, there is a pause between World Cup games, and Smith, a bubbly blond Iowan turned Londoner, has gathered a group of 20 odd tourists cum students for her unique tour and lesson.
Welcome to the "Flirting and Walking Tour of London," where, for 25 pounds ($38), you too can learn where to pick up the ladies, chat up the guys, and generally flirt your way across the capital city – even in the middle of the World Cup.
IN PICTURES: Top 2010 World Cup controversies and 10 World Cup players to watch
"Its all about timing this month," explains Smith, tossing her blond locks. "If you were to try and flirt in middle of an important play that won't work. No," she shakes her head. "And I would not recommend flirting with someone whose team is losing, either. No. Not ideal."
---