Greece debt: Government sees hope in privatization despite protests
Officials see privatization as a way to dig out of Greece's debt, but newly unemployed workers are taking to the streets of Athens in protest. Tuesday's 10,000-strong demonstration may foreshadow larger protests to come, some say.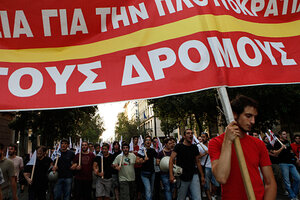 Evi Zoupanou/AP
Kleanthis Tratras was among 10,000 Greek protesters Tuesday in the fifth general strike this year against government spending cuts. He, like many of the protesters, has found himself unemployed because of the government's privatization of state companies to raise money.
The heavily indebted Greek government has adopted the International Monetary Fund's recommendation to raise some of the €320 billion ($390 billion) it owes foreign lenders through privatization. And that has transformed central Athens into a stage for daily demonstrations, even in the heat of summer when many here typically take long vacations.
While Tuesday's demonstration was smaller than past protests this year, strikes are expected to pick up again when vacationers return from the beach.
IN PICTURES: Top 10 things Greece could sell
That spells trouble unless the government can convince people like Mr. Tratras that privatization is essential along the country's road to economic recovery.
His former employer, the national air carrier Olympic Airways, was privatized in September 2009. As the new owner attempted to trim costs, it also decided in March to cut 4,400 workers, including Tratras. Months later, he and other former workers have yet to receive any compensation or pension payments, despite legislation that ordered their pensions be paid.
---