After secret hearings, France ready to put World Cup behind it
After the French team imploded at the World Cup, the French national parliament held two secret inquiries this week into the catostrophe!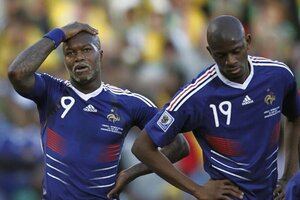 Charles Platiau/Reuters
Il y en a marre! Enough already! Let it stop!
In France, everyone is quite aware that the French soccer team, Les Bleus, self-destructed at the World Cup. Ordinary French are quite upset, but are now ready to turn the page. Assez!
Unfortunately, that page is turning slowly. This week the French national parliament – twice warned by international soccer federation (FIFA) chief Sepp Blatter to not interfere with the sport – went ahead anyway in secret questioning sessions with two team officials.
The move put President Nicolas Sarkozy at odds with Prime Minister Francois Fillon over whether the nation's soccer woes needed a federal hand in recovery. And President Barak Obama thinks he has problems with BP.
IN PICTURES: Top 12 Goals of the Second Week and Top 10 Goals of the First Week
Columnist Christophe Berti, writing for Le Soir in Brussels, noted: "We thought we had seen everything in terms of ridicule...with the epic of France in South Africa. But having touched the bottom of the pool the French decided to dig further ... with this meaningless hearing at the National Assembly."
---