Poland election: Center-right Bronislaw Komorowski edges out Jaroslaw Kaczynski
Acting president Bronislaw Komorowski edged out Jaroslaw Kaczynski, opposition leader and twin brother of the late President Lech Kaczynski, with just over 52 percent of the vote in Sunday's Poland election.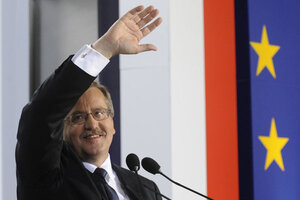 AP
Nearly three months after the tragic April 10 plane crash in Smolensk, western Russia, which killed Polish President Lech Kaczynski, Polish voters elected the country's new president on Sunday.
After the first round of the Poland election on June 20 failed to produce a majority winner, Speaker of Parliament Bronislaw Komorowski from the ruling center-right Civic Platform (PO) edged out Jaroslaw Kaczynski, the president's twin brother and leader of the right-wing Law and Justice (PiS) party, in Sunday's runoff election.
Mr. Kaczynski conceded defeat Sunday night after 95 percent of the votes were counted, showing that Mr. Komorowski had an unassailable lead with 52.63 percent, compared with Kaczynski's 47.37 percent.
Komorowski's win means both the executive and legislative branches of Poland's government will be united under the pro-business Civic Platform party, but Kaczynski's rise in the polls throughout the race means that the right-wing PiS will be invigorated for a strong challenge during parliamentary elections in just over a year.
For now, though, Komorowski wanted the nation to focus on the fact that it is emerging pretty well united after a very difficult period following the April plane crash that killed its president and dozens of other high-ranking officials.
---