In land of few burqas, France debates a ban
France's proposed burqa ban is seen by many as a way to raise the issue of Islam in a secular society where religious identity is not a public subject. The bill is expected to pass.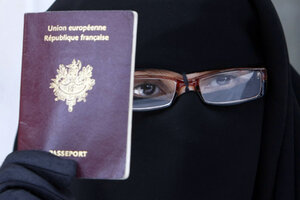 Remy de la Mauviniere/AP
As the French lawmakers tonight begin a debate to ban the burqa or veil worn by some Muslim women, it is time to visit Goutte d'Or, the North African heart of Paris.
The area in the 18th district has open markets for regional delicacies and is the place to buy garments for a Muslim wedding. Sidewalks are crowded, though not with tourists. On a Friday afternoon, two mosques fill three streets with overflow worshipers. Young men move in bunches, and blacks and Arab French mill outside cheap overseas call centers, busy hair boutiques, storefront import-export firms, and shops closed a long time.
It's a working-class area with not enough work. Some traditional French also live there.
In late June, Goutte d'Or attracted TV trucks when far-right nationalists put out a call for a Friday "sausage and wine" protest party. So Islamic had the place become, that pork and alcohol were supposedly not sold here. The provocative "party" was banned by police and moved.
The momentary madness revealed again a wide gap between traditional France and "another France." The French mainstream is slow in acknowledging the scope of the other France – one not assimilating well, whose youths are not welcomed into jobs. The cumulative unease is often lumped into the word "Islam," in a pushback to affirm traditional identity.
The hot topic in France
---
Follow Stories Like This
Get the Monitor stories you care about delivered to your inbox.