Tour de France: Can Lance Armstrong keep his Teflon image?
As the Tour de France gets under way, defrocked 2006 winner Floyd Landis has put forward fresh, detailed doping allegations against Lance Armstrong. But Armstrong has become as famous for deflecting scandal as for leading the peloton.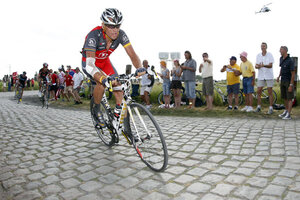 Eric Gaillard/Reuters
As Lance Armstrong tries for a record eighth victory in the Tour de France this month, his image is under attack amid increasingly detailed doping allegations from ex-teammate Floyd Landis.
In a Wall Street Journal exposé this weekend, Landis portrayed him as a Texan cowboy who has flouted everything from stop signs to morality to antidoping rules, and encouraged his teammates to join in. He described Armstrong getting blood transfusions on the team bus when the driver pulled over and feigned a breakdown.
But Armstrong's Teflon persona has so far deflected not only Landis's claims, but all previous accusations about his character, his marital problems, and his use of performance-enhancing drugs.
Unprecedented for his success and leverage in the US cycling community – those who speak against him are severely punished – he has strengthened his immunity by becoming an established celebrity outside the cycling world.
"Here's a guy who hangs out with Matthew McConaughey, Bono, and Ben Stiller," says Neal Rogers, managing editor of American cycling magazine VeloNews. "A lot of people, especially in the US, they don't equate Lance Armstrong with athleticism any more."
A modern folk hero who makes $20 million
---