Amanda Knox will eat crab cakes for her birthday behind bars, says mom
Amanda Knox will celebrate her 23rd birthday in a sweltering Italian prison. Her mother and sister have brought food and gifts. Amanda Knox's mother is in Italy to face charges that she defamed the Italian police.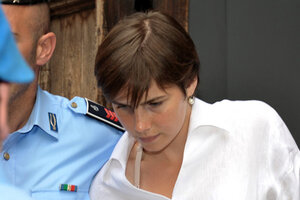 Stefano Medici/AP
Jailed American student Amanda Knox will cook crab cakes on the floor of her sweltering Italian prison cell on Friday as she marks her 23rd birthday – her third behind bars since being arrested and then found guilty of murdering her British room-mate.
The former University of Washington student will receive gifts from her mother and sister when she is allowed to spend an hour with them in the visiting room of a prison outside Perugia, the medieval hill-top town where her flatmate, Meredith Kercher, was found stabbed to death in Nov 2007.
The brief visit will be a comfort to Ms. Knox, who has always maintained that she had nothing to do with the killing, and will provide a brief respite from her sweatbox of a cell.
"There's no air-conditioning in the cells and it's been 42 C (108 degress F.) this week in Perugia," her mother, Edda Mellas, who celebrates her own birthday on Saturday, told the Monitor. "It is excruciatingly hot and humid, really unbearable."
"Amanda has asked us to bring some ingredients to make crab cakes. We'll take some onions and bread crumbs and maybe some avocado and she will make them on a little camping stove on the floor of her cell. We also have some gifts from friends at home: some sundresses and some books."
---
Follow Stories Like This
Get the Monitor stories you care about delivered to your inbox.