Norway bomb plot shows reach of Al Qaeda-linked groups
An Uzbek, a Uighur, and a Kurdish Iraqi were arrested Thursday in a Norway bomb plot described as linked to Al Qaeda – and to planners of foiled attacks in New York and in the UK.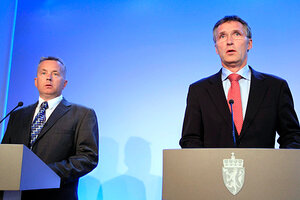 Gorm Kallestad/Scanpix/AP
The arrest by Norwegian police today of an Uzbek, a Uighur, and a Kurdish Iraqi – all described as being linked to Al Qaeda – shows the ability of jihadi groups to better organize abroad in a united front where race or nationality is ever less a determining factor, analysts say.
"The group is connected to the Al Qaeda network and the case has links to the US and Great Britain," said Janne Kristiansen, head of Norway's Police Security Service, without going further into what those links are.
Coming at a time when many combatants killed or captured in Afghanistan, Waziristan, and Pakistan are discovered to be from nations as wide-ranging as Uzbekistan, Egypt, and Yemen – the arrests in Norway show the ability of a well-connected transnational Islamic group to bring widely differing individuals together.
"Whether it is organized by Al Qaeda or a new group, we are seeing varied nationalities coming together under one banner…. They are not yet realizing their aims, but are taking first steps, connecting and planning," says Maha Azzam, a specialist at Chatham House, an international research group in London. "Despite different Islamic contexts…there is a thread that is bonding these individuals in the name of a cause."
---
Follow Stories Like This
Get the Monitor stories you care about delivered to your inbox.