Tour de France Stage 5: Cavendish redeemed; Lance Armstrong still 18th
British cyclist Mark Cavendish won Stage 5 – his first stage win – of this year's Tour de France after a bumpy start to the 2010 season. Lance Armstrong stands 18th, two minutes and 30 seconds behind the leader after 613 miles of racing.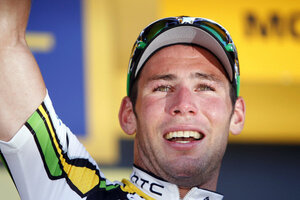 Bogdan Cristel/Reuters
Standing on the podium after winning today's Stage 5 of the Tour de France, Briton Mark Cavendish burst into tears.
The HTC-Columbia sprinter didn't stop until race leader Fabian Cancellera mercifully interrupted Cavendish's post-race interview with French television.
"I think for him it's the prettiest victory of his career," Cancellara said as Cavendish quickly left the set. "It's a pretty thing for the sport."
For Cavendish, who edged out rivals on the sprint finish into Montargis, this emotional release was a long time coming.
Sidelined by health, poor judgment
The Isle of Man native, known as much for his brash personality as his on-bike talent, won six stages in last year's Tour de France and had high expectations for the 2010 cycling season. But complications from voluntary dental surgery kept him out of action until mid-February.
When Cavendish finally returned to form in April, he was sidelined again – suspended by his team after he made an obscene gesture on the finish line of the Tour of Romandie's second stage.
"I apologize to everybody watching the race," Cavendish said in an April press release.
Though the first stages of the Tour de France were supposed to be redemptive for the 25-year old, they were anything but that.
---