How are Tour de France towns are picked? Incognito.
Jean-Louis Pagès, a bespectacled former geography professor, spends nearly half the year on the road scouting future Tour de France towns – incognito. He already has a folder on his BlackBerry for 2015 possibilities.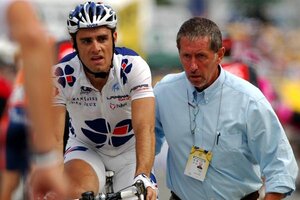 Alexandre Marchi/Max Photos/File/Newscom
Attention mayors of France: if you see a middle-aged man with buzzed gray hair and black-rimmed glasses sketching a map of your town in a spiral notebook, get excited.
You may be hosting a stage of the Tour de France in the future.
You won't find out for sure until October, when the Amaury Sports Organization (ASO), which owns and manages the Tour, announces the race's route for the following year.
But by then, the course has already been set for almost two years, thanks to the work of that mysterious sketchbook artist.
His name is Jean-Louis Pagés.
Incognito reconnaissance
A former geography professor, he has likely seen more of France than anyone else his age. Now he's ASO site director, traversing the country each year to scout out potential host towns, called villes-étapes in French, for upcoming races.
Here's how his job works : if a town is interested in hosting a start, finish or both, local officials send a letter to Tour de France director Christian Prudhomme. Mr. Prudhomme relays the town's coordinates to Pagès, who heads out to do incognito reconnaissance, like a food critic examining a new restaurant.
It's demanding work – this year he will spend over half the year away from home. The Tour alternates clockwise and counter-clockwise directions around France each year, so much of his travel is based upon the envisioned route.
The most important criterion for a town's selection is geography, according to the ASO.
4,500 people, 50 TV trucks, and 20+ miles of cables
When Pàges reaches a town, he walks around to determine if it can support the Tour, a traveling circus of more than 4,500 people. The race's technical team alone – comprised of more than 50 television trucks and 20 miles of cabling – rules out many potential sites.
---