Tour de France 101: What do different color jerseys mean?
The yellow, green, red polka dot, and white jerseys worn by cyclists in the Tour de France represent the best competitor in different categories. The standings can change from day to day, especially early in the race.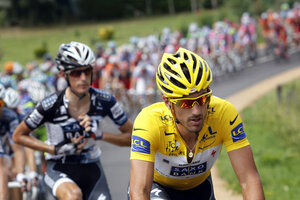 Christophe Ena/AP
What do the different color Tour de France jerseys mean?
YELLOW: The maillot jaune, the yellow jersey, is the signature chemise of the Tour de France. It designates the overall leader of the race so far. When cyclists finish the three-week race by cruising through the streets of Paris, the photo of the yellow-shirted winner is seen around the globe.
The yellow jersey is awarded after each of the 20 stages, or race days, to the rider who is the overall leader of the race so far. Each day the total amount of time taken to finish that stage is added to the cumulative time of all previous races, and the overall leader is determined. The next day, he wears the yellow throughout the stage.
GREEN: The green jersey, or maillot vert, is the sprinter's jersey. At every stage, points are awarded to the first 10-25 riders that cross the finish line. The amount of sprint points awarded depends on the day's course (a flat course produces more points than the mountain terrain) and in what place the rider finishes that day. Some stages have mini-sprints within the stage that are worth points. German Erik Zabel holds the record for winning the final green jersey in the Tour six consecutive times, between 1996 and 2001.
WHITE WITH RED POLKA DOTS: This is the King of the Mountains jersey. Points are awarded to the first rider to reach the crest of designated hills and mountains. Mountains are graded according to steepness, length, and position on the course, and points correspond to the grade. The best climber awards began in 1933, and the maillot à pois rouges was first worn in 1975.
---