US, Russia spy swap: Why London is a hotbed of spies
The US-Russia spy swap today in Vienna was aimed at bringing a quick close to spy tales that have transfixed the media. But London – a magnet for Russians – is likely to remain a hotbed of spies.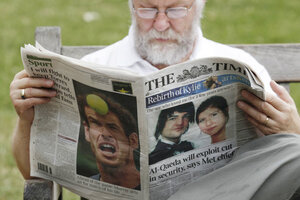 Luke MacGregor/Reuters
Alex Chapman had an inkling that something had changed toward the end of his marriage to the sultry young woman who was to become the glamorous public face of the Russian spy ring busted in several US cities.
"She became very secretive, going for meetings of her own with 'Russian friends,' and I guess it might have been because she was in contact with the Russian government," the trainee British psychiatrist recalled in an interview with the Daily Telegraph as the "London years" of Anna Chapman (formerly Anya Kushchenko) came under the spotlight.
The spy-ring affair that has transfixed both Americans and Britons should conclude with the quickly arranged prisoner swap July 9. The 10 people who were arrested and charged with spying in the United States landed at Domodedovo airport in Moscow today, even as four prisoners held for spying in Russia arrived in London.
But as her ex-husband's account would have it, Ms. Chapman's time in Britain from 2002 to 2007 was when she evolved from a naive but ambitious young student to a sophisticated jet-setter with a taste for intrigue and the high life.
---