Roman Polanski free? European cheers, and jeers
French and Polish officials praised the decision by Swiss authorities to free Polish filmmaker Roman Polanski. But some ordinary citizens and French elite said a different judicial standard is used for the rich and famous.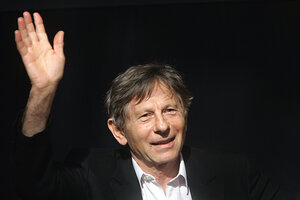 Franka Bruns/AP/File
Polish and French foreign ministers, European artists and intellectuals expressed satisfaction today at the release of the Polish director Roman Polanski. But some European elites – and ordinary citizens – showed a markedly different sense and sensibility about his fate.
"A prudent decision," declared Polish foreign minister Radoslaw Sikorski, upon hearing that the 76-year-old director of "Chinatown" and "The Pianist" had been freed by Swiss authorities. And French foreign minister Bernard Kouchner said, "The great Franco-Polish director" can now "rejoin his friends and family and work fully…."
"Thank you Switzerland! Bravo Switzerland!," said former French minister of culture Jack Lang.
Swiss legal authorities decided not to extradite Mr. Polanski to the US, after he pleaded guilty to a charge of unlawful sex with a minor in 1977, but then fled the country. The Swiss justice minister cited an inability to examine a US prosecutor's records that bore on the amount of time Polanski had already served and the deal struck with the Los Angeles court.
---