Mickey Mouse swastika art sparks anger in Poland
An art gallery's exhibition poster that features a Mickey Mouse head and a swastika has outraged many in Poland, which lost 6 million citizens to the Holocaust.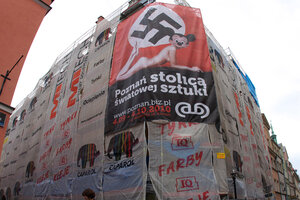 Lukasz Ogrodowczyk/AFP Photo/Newscom
Abnormals Gallery saw the swastika-featuring poster as a catchy way to promote its upcoming exhibition, Abnormal Nudes, in the Polish city of Poznan. But the decision to hang the oversized artwork (which spans several stories) on the outside of the gallery building has sparked outrage, vandalism, and even threats of legal action. The furor is a reminder of the potency of the symbol in a country that lost some 3 million Jews to the Holocaust.
The gallery says the image by Italian artist Max Papeschi – which features a nude woman with a Mickey Mouse head lying under a large swastika – serves to mock the profoundly controversial symbol. The image belongs to the Papeschi series titled "Politically Incorrect," which the artist says targets the "horrors" of the lifestyle in the United States. Papeschi's works are to be exhibited with those of 30 other international artists.
"The artist clearly aimed at ridiculing the swastika," says Maria Czarnecka, Abnormals Gallery's manager. "Papeschi's art piece shows that this symbol has become a part of pop culture, stripped from its original meaning," she adds.
---