Vatican stirs storm on women priests in clarifying law on clergy abuse
The Vatican tries to clarify laws on women priests and clergy abuse after critics were outraged by inclusion of women's ordination on a list of grave crimes.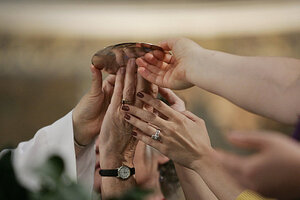 Riccardo De Luca/AP
Vatican officials today said the attempt to ordain women in the Roman Catholic Church is not an equal crime to priestly pedophilia – even as critics point out that in practice, the ordination of women is dealt with more harshly inside the church than are charges of priests abusing children.
The Vatican clarification came on the heels of uproar in and out of the church after issuing new rules that made it easier to discipline priests. The rules lengthened the church's statue of limitations on investigating victims from 10 to 20 years – and included women's ordination among a list of grave crimes.
Women's groups, theologians, and reform Catholic organizations disagreed sharply with the content and appearance of an issuance of church law that had ordination of women on a list that included heresy, schism, and pedophilia
"We completely disagree with ordination being raised inside a document and announcement on pedophiles and important crimes," says Raquel Mallavibarrena of the Madrid branch of "We Are Church," an international reform group whose European and American branches issued a protest today. "We are fighting for the ordination of women and supporting the equality of women in the church."
'Not on the same level'
A Vatican official, Charles Sciciuna of the church doctrinal department, however, told Reuters agency that the two issues "are in the same document, but this does not put them on the same level or assign them the same gravity …  this is not putting everything into one basket."
---