Tour de France Stage 15: Schleck vows 'revenge' after Contador steals lead
Two-time winner Alberto Contador bumped Andy Schleck out of the lead during the Tour de France Stage 15 today. But fans whistled with displeasure at Contador, who attacked when Schleck's chain fell off.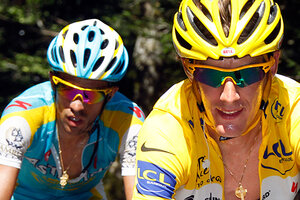 Eric Gaillard/Reuters
Bagnères-de-Luchon, France
Defending champion Alberto Contador moved into the overall lead of the Tour de France today, but it wasn't without controversy.
Fans and fellow riders have questioned the Spaniard's sportsmanship after he took advantage of former race leader Andy Schleck's mechanical breakdown on the final climb of the Tour de France Stage 15, won by Frenchman Thomas Voeckler.
Near the summit of the Port de Balès, Schleck's chain popped off his bike as he mounted an attack against Contador. As he straddled the frame, trying to fix the issue, Contador and two rivals, Denis Menchov and Samuel Sanchez, blew past.
IN PICTURES: Scenes from the 2010 Tour de France
Schleck remounted and chased the trio down the 13.4-mile descent into Bagnères-de-Luchon, but it was too late: He had lost not only his 31-second lead over Contador, but an additional eight seconds as well, putting him in second.
Unspoken rule: Wait for those with equipment problems
It's an unspoken rule of etiquette in pro cycling that you don't take advantage of others' misfortune. After the race, Schleck was clearly miffed.
---