Kosovo independence legal, says UN court. What will Russia do?
Kosovo's independence declaration in 2008 is legit, says the International Court of Justice (ICJ). But the ruling may create a precedent for separatist movements worldwide. Russia opposed Kosovo's independence.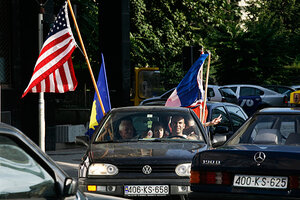 Hazir Reka/Reuters
Tiny Kosovo's 2008 declaration of independence was ruled legal today by the highest UN court – bringing clarity to a question long mired in strategic, moral, and emotional disputes.
But the non-binding decision by the International Court of Justice (ICJ), one of the first rulings on changing borders in modern times, may have messy political ramifications worldwide, analysts say.
The Hague judges said the ruling narrowly applied to Kosovo. Court president Hisashi Owada said international law contains no "prohibition on declarations of independence." But the court's broader questioning of notions of "territorial integrity" may open a Pandora's box, giving heart to many non-state actors around the globe seeking to secede or declare independence.
Mark Ellis, director of the International Bar Association in London says that, "By saying that Kosovo did not violate the privilege of 'territorial integrity,' the court creates a more vexing challenge for international law, affecting future decisions involving non-state actors living in states."
On Feb. 17, 2008, Kosovo – 93 percent Albanian, but a heartland of Serbian mythic and religious identity – declared independence, strongly supported by the US and most European states.
---