Tour de France Stage 17: Why fans will camp out for days to glimpse cyclists
Mountain stages like the Tour de France's Stage 17 today, which could decide the battle between defending champion Alberto Contador or rising star Andy Schleck, are favorites among spectators.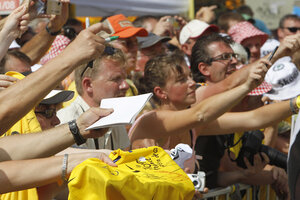 Christophe Ena/AP Photo
In the Tour de France's Stage 17 today, when Alberto Contador and Andy Schleck pedal furiously up the infamous Col du Tourmalet – battling for the overall lead in cycling's most prestigious race – fans will have been in place for hours.
With the Tour ending Sunday in Paris, today is the last chance for fans – many of whom make yearly pilgrimages to their favorite mountainside – to sprint alongside cycling's icons for the few steep miles in which even Lance Armstrong is reduced to mere human speeds.
On a typical flat stage, the peloton zips by in a few seconds. Blink and you've missed the action.
But on Tour climbs like the Col du Tourmalet, the most iconic in the race's history, steep inclines separate the strongest riders from the rest. It's not uncommon for a half-hour to pass between the leaders and last group of stragglers, commonly known as the grupetto.
That's what happened during Tuesday's Stage 16, on the 5,606-foot Col d'Aubisque, a Pyrénéan mountain pass south of Pau.
Helicopters and bikes – but no cars
With 42 appearances in the Tour's history, the Col d'Aubisque is the second-most visited climb by the race after Tourmalet, where Thursday's potentially decisive stage will end.
---