Stonehenge timber twin revealed in shovel-less dig
Stonehenge had a twin nearby made of timber, say archeologists who made the new discovery. But this dig was done with magnetometers, radar, and video game 3D technology.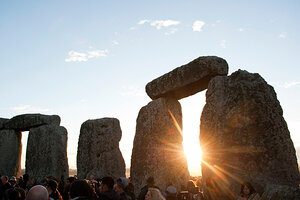 Kieran Doherty/Reuters
"I am a traditional archeologist, I actually love digging," admits University of Birmingham professor Vince Gaffney. "But that's not what this is about. This is something different."
For years, mystery and intrigue has surrounded Stonehenge, the massive Neolithic or Copper age (3,000-2,000 BC) circular stones standing out in the middle of the English countryside where Dr. Gaffney, as part of a team made up of experts from universities across Europe, is digging – well, no, mapping – this summer.
The UNESCO world heritage site lures more than 750,000 curious visitors a year including tens of thousands of druids and sun worshipers who traditionally gather here to every Summer Solstice – but no one has resolved the most basic questions about the site.
IN PICTURES: Summer Solstice at Stonehenge
Was Stonehenge – arguably the world's most famous prehistoric monument – once a burial ground, a ritual site for human sacrifice, or perhaps an astronomy observatory? And was this a place built by humans, toiling for tens of millions of hours, or were, as some believe, supernatural powers involved in moving stones seemingly impossible to move otherwise?
Now, we might be getting closer to the answers.
Technology brings Stonehenge to life
---