EU passes unprecedentedly tough Iran sanctions
The EU passed sanctions today that surpass the UN's Iran sanctions and all previous European measures. As Tehran's largest trading partner, the EU is likely to make a serious dent economically.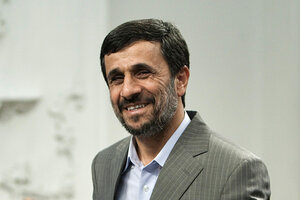 Raheb Homavandi/Reuters
The European Union instituted sweeping and legally binding sanctions against Iran Monday amid ongoing concerns about Tehran's nuclear ambitions and brinkmanship – and continued reprocessing of nuclear fuel.
European foreign ministers in Brussels finalized measures that will take effect tomorrow, targeting a wide range of banks, individuals, shipping, insurance, and oil refining technology – despite financial losses to European firms that have greater investment and dealings with Iran than their US counterparts.
These Iran sanctions go farther than a fourth round of United Nations sanctions approved June 9 and are seen as the most comprehensive the EU has ever undertaken against a single state.
Sanctions target Iran's crucial energy sector
The precise sanctions list will be published tomorrow. But Iran's energy sector is known to be a main target of the sanctions. Oil accounts for roughly 80 percent of total exports and more than half of the government's revenues.
Despite being the No. 2 OPEC exporter of crude oil, however, Iran must import some 40 percent of its refined gasoline – making it vulnerable to European limits on such imports. Tehran announced on Sunday a $46 billion program to increase its oil refining capacity, adding seven new refineries and improving its nine existing ones.
---