Tour de France 2010 delivers drama – without the doping
After a lackluster 2009 edition, this year's Tour de France was filled with action, from the cementing of Contador and Schleck's rivalry to Armstrong's bumpy exit from the sport he dominated in unprecedented fashion.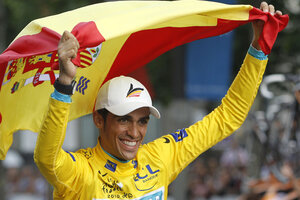 Christophe Ena/AP Photo/Pool
The 97th Tour de France was filled with action after a lackluster 2009 edition.
A new rivalry was cemented – winner Alberto Contador of Spain barely defeated Luxembourg's Andy Schleck on the penultimate day – as the race bid adieu to seven-time champion Lance Armstrong, riding in his final Tour amidst a developing federal doping investigation.
But this year's race will be remembered for the course as much as for the riders. The 2,263-mile journey was one of the toughest in recent years, with stages over cobblestones and two trips up the brutal Col du Tourmalet, an iconic Pyrénéan mountain pass.
Myriad crashes quickly winnow top contenders
Those pesky cobbled roads were in part responsible for myriad crashes during the first stages in Belgium and northern France, which helped winnow down the pool of contenders unusually early.
Some riders were knocked out of contention; others, like Andy Schleck's brother and teammate Frank, were forced to leave the race with injuries.
---