Afghanistan war: Dutch withdrawal, WikiLeaks don't deter main NATO allies
The Afghanistan war has not been popular in Paris, Berlin, or London. But neither the Dutch withdrawal nor WikiLeaks revelations appears to be a threshold issue for voters.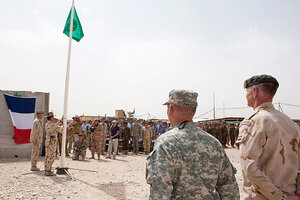 Dave de Vaal/Netherlands Ministry of Defence/Reuters
Neither the official withdrawal of Dutch forces from Afghanistan on Aug. 1 nor the revelations by WikiLeaks on war operations appears yet to be a game-changer in Paris, Berlin, or London.
The Afghan war has been unpopular in all three places for several years. But the main policy of the main US NATO allies remains one of endurance with the hope of withdrawal as soon as a credible strategy is found.
Intense fighting this summer, combined with voluminous raw information on WikiLeaks, has been a spur to war skeptics in Europe, and has raised anew questions about the purpose of the war, its goals, and whether Afghanistan can become a credible political state.
The WikiLeaks documents, sometimes compared to the Pentagon Papers, were released by the Guardian newspaper in the UK and Der Spiegel in Germany.
---