As Russia wildfires rage, Putin shows strength, Medvedev tweets
Prime Minister Vladimir Putin has taken center stage on the Russia wildfires that have ruined at least 20 percent of Russia's grain crop. President Medvedev is struggling to stay in control.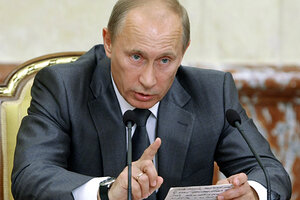 Alexei Nikolsky/RIA Novosti/AP
The deadly Russia wildfires that are sweeping across the country, amid that country's most ferocious heatwave in recorded history, may also be changing the political landscape as former president and current Prime Minister Vladimir Putin vaults to center stage as the country's most decisive and effective leader.
"This crisis has presented [Mr. Putin] with a great opportunity to show himself on TV and pose as master of the situation, and he has done just that," says Nikolai Petrov, an analyst with the Carnegie Center in Moscow.
"In the past few days, Putin has rushed from place to place and been seen on TV taking firm actions," he says. "Putin shows that he can soothe angry citizens with promises of assistance, place the blame on local officials, and in general look like a savior."
That's despite Putin himself bearing the brunt of responsibility for Russia's lack of preparedness for the fires, according to a scathing article in the Moscow business newspaper Vedemosti. It points out that Putin abolished the state forestry service three years ago, and scaled back state funding for fire prevention measures. According to the paper, Russia currently spends about 4 cents per hectare of forest lands on fire fighting services, compared with about $4 in the US.
---