Pakistan's Zardari says 'losing war' against Taliban ahead of David Cameron meeting
Pakistan President Zardari says his country is 'losing the war' against the Taliban ahead of a key meeting with UK Prime Minister David Cameron, who took Zardari's government to task recently for supporting militants in Afghanistan and India.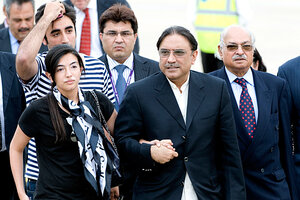 AP
What was intended by Pakistan President Asif Ali Zardari as a quiet five-day trip to Britain has become a glaring international spectacle for the president, whose country is in the throes of an epic flood and an epic war.
But the trip has changed for a flood of reasons: Last week, British Prime Minister David Cameron, while visiting India, implied that Pakistan was playing a duplicitous game, that it "exports" terror to India and Afghanistan. The remarks caused a huge row in the south Asian state.
Zardari arrives in the UK today amid palpable anger at home over leaving when he could be directing emergency flood relief and consoling victims. The Taliban war has grown hotter inside and outside Pakistan – and a flood of recent WikiLeaks documents purporting covert support by Pakistan for the Taliban are likely to dog the prime minister and his team. The crisis in Kashmir has turned suddenly ugly, and yesterday a leading political ally of Zardari's People's Party in Karachi was assassinated.
---