Russia wildfires: Thick, toxic smog chokes Moscow residents
Russia wildfires have now pushed carbon monoxide levels in Moscow to 6.5 times the allowable level and the concentration of other unspecified toxins to 'up to 9 times' acceptable limits, according to Russia's health ministry.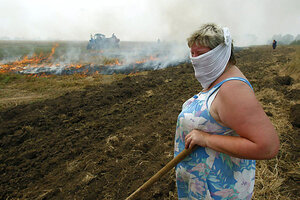 Mikhail Voskresensky/Reuters
Mila Kharitonova says she feels as though she were trapped in a burning building, amid unbearable heat and smoke, and finds herself constantly struggling to suppress the urge to grab her children and flee.
"There's nowhere to run to, because it's worse on the streets outside," says the mother of three, who lives in a third-floor flat in central Moscow.
For almost two weeks, a thick, toxic blanket of smoke from blazing suburban peat bogs has settled over the capital. The acrid, choking haze, combined with drought and more than a month of the most relentless heatwave on record, has left many Muscovites almost literally choking with concern.
Since late June, Russia has been hammered by daily temperatures that have been 10 to 15 degrees C above the July average of 23 degrees C, while the cooling trend that usually begins in August so far shows no signs of materializing.
The heat and extraordinarily dry conditions have spawned the worst and most extensive wildfires in memory, spreading across the steppes and forests of central Russia and generating a thousand-mile wide plume of smoke that can be clearly seen in satellite photos.
As of Sunday, the Ministry of Emergency Services said there were 554 wildfires raging around European Russia, which have killed 52 people and destroyed more than 2,000 homes. Some of the worst blazes are almost literally on Moscow's doorstep, including about 30 huge peat bog fires that firefighters have been unable to control.
Putin bans wheat exports
---