North Korea offers to pay off Czech debt -- with Korean ginseng
The Czech Republic suggested barter when North Korea said it would be hard put to repay a $10 million debt left from cold-war days. But it was thinking zinc ore, not Korean ginseng.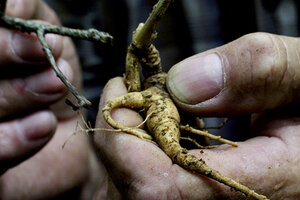 Newscom
North Korea, the world's most recently declared nuclear weapons power, now wants to pay off some of its outstanding debts – with ginseng root.
The Czech Republic is pleased to discover that cash-poor North Korea hasn't forgotten $10 million in arrears – dating to heady cold war comrade days, when then-Czechoslovakia sent machinery, trams, and equipment to Kim Jong-il's father, Kim Il-sung.
Last month, a delegation from Pyongyang arrived in Prague asking forgiveness of some 95 percent of the old debt. Czech authorities pronounced the request "unacceptable" and said "the debt cannot be forgiven," according to a Ministry of Finance statement to the Monitor.
Prague, did suggest, however, that the Democratic People's Republic of Korea could pay back on a barter arrangement that dates to the Soviet era.
The DPRK then offered some $500,000, or 400 tons' worth, of the piquant root used in tea, medicines, soups, and hand cream. North Korean ginseng is considered one of the finest in quality, called "heaven grade" in Asia.
The problem for Czech authorities is that their entire country only consumes 1.4 tons of ginseng a year; the quantity proposed by Pyongyang would last 200 years.
We'd rather have zinc ore, please
Czech Finance Ministry officials instead suggested Pyongyang pay in zinc ore, which the Central European nation can process or resell, according to Tomas Zidek, Czech deputy finance minister, in the MF DNES Prague daily.
---