France dismisses petition for it to pay $17 billion in Haiti reparations
France on Tuesday rejected a petition calling for it to pay $17 billion to help with Haiti earthquake reconstruction as a way to make amends for fees charged Haiti by the French crown 200 years ago.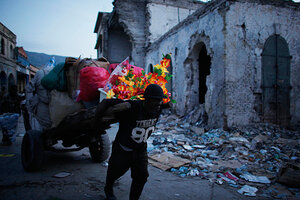 Alexandre Meneghini/AP
France dismissed a call by left-leaning politicians and others for it to pay the modern equivalent of 90 million gold francs – about $17 billion – to Haiti as reparations for a 200-year-old injustice.
A petition signed by 100 artists, scholars, and EU politicians that was released Monday called on France to give Haiti $17 billion for earthquake reconstruction. The money would essentially reimburse a fee French King Charles X charged Haiti after a revolt that ended slavery there. King Charles justified the fee as compensation for the loss of slaves and other property.
Such requests are not new, authorities say, arguing that France has given substantial aid and debt relief to its former colony, and plans more.
The British Guardian and French Liberation dailies yesterday ran the open letter to French president Nicolas Sarkozy signed by the likes of US academics Cornel West and Noam Chomsky, EU political figures Daniel Cohn-Bendit and Eva Joly, columnist Naomi Klein, and a host of US and French academics, rappers, and public figures.
---