Russia grain export ban benefits US farmers, sparks talk on climate change
The International Grains Council cut its projected world grain output Thursday. Drought in eastern Europe has sparked a Russia grain export ban.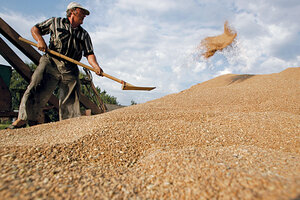 Mikhail Mordasov/AFP/Newcom
The International Grains Council on Thursday cut its forecast for global wheat output by 1.1 percent, primarily on the news that major grain exporter Russia has seen one-third of its crop wiped out by the worst drought in a century.
To prevent inflation and ensure supplies for Russian tables and livestock, the Russian government banned all grain exports from Aug. 15 to Dec. 31. The news has sent crop prices soaring. It's bad news for grain importers, but increased demand may boost profits for other grain exporters such as the US.
Is there a grain crisis?
While the International Grains Council cut its 2010-11 forecast by seven million metric tons to 644 million metric tons, that's still the third highest wheat crop on record.
But it doesn't mean the situation in Russia is insignificant. It was the world's fifth-largest wheat grower and fourth-biggest wheat exporter in 2009, after the European Union, the United States, and Canada. In 2009-10, Russia harvested 94 million metric tons of grain, including 62 million metric tons of wheat – 18 million metric tons of which was exported. In 2010-11, Russia is expected to harvest about 67 million metric tons of grain and to export 3 million metric tons of wheat, according to the US Department of Agriculture.
---
Follow Stories Like This
Get the Monitor stories you care about delivered to your inbox.