Putin hits the open Russian road to woo his far-flung countrymen
Russian Prime Minister Vladimir Putin is touring Russia's Far East in a bright yellow Lada, making daily headlines ahead of what appears to be his plan to run for the presidency in 2012.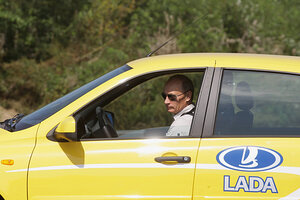 Alexei Druzhinin/Ria Novosti/Reuters
Russian Prime Minister Vladimir Putin, who showed last week that he is always up for an adventure, is currently touring Russia's remote and rugged far east in a bright yellow Lada Kalina, provided by AvtoVAZ, Russia's largest carmaker.
Along the way, he's made daily headlines by visiting a newly constructed space launch center, inaugurating an oil pipeline to China, and griping to journalists about the poor quality of Russian roads and the high cost of gasoline.
He struck a different note on Monday, using a newspaper interview to defend harsh police tactics against the small anti-Putin opposition led by chess champion Garry Kasparov and former deputy prime minister Boris Nemtsov, who plan to stage another of their controversial series of street rallies in defense of free speech on Tuesday.
Experts say Mr. Putin, who arguably remains the country's most powerful leader – even though Russia's Constitution stipulates that a prime minister is appointed by and serves at the pleasure of the Kremlin – is almost certainly preparing for a fresh run at the presidency in elections slated for 2012.
---