Russian protesters defy Putin warning – and meet tough response
Hundreds of young Russians protested Tuesday in support of their constitutional right of free assembly, despite Prime Minister Putin's warning against unsanctioned political rallies.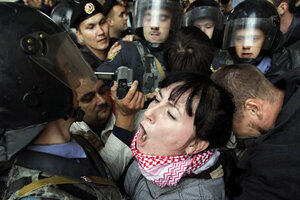 Sergey Ponomarev/AP
Defying a warning from Prime Minister Vladimir Putin that anybody trying to stage unsanctioned political rally would be "beaten on the head" by police, hundreds of mainly youthful protesters showed up Tuesday night at Moscow's fenced-off and police-barricaded Triumph Square to demand that Russian authorities honor their constitutional right of free assembly.
"If you get [permission], then go out and demonstrate," Mr. Putin said in a newspaper interview Monday. "If not, you do not have the right. If you go out without having the right – you are going to get beaten with a club. It's as simple as that."
Nearly 1,000 riot police who were on hand mostly kept their truncheons sheathed. Wedges of armored-and-helmeted police charged repeatedly into the crowd, arresting at least 70 people, including top leaders of the "Strategy 31" movement, named after Article 31 of Russia's 1993 Constitution, which guarantees civic freedoms.
PUTIN'S DARING DO: 5 marquee moments
Among those seized were former deputy prime minister Boris Nemtsov, leader of the banned National Bolshevik Party Eduard Limonov and head of the Left Front Konstantin Kosyakin.
---