In France, an Evangelical Gypsy group shakes up the immigration debate
In France, a movement from within the Gypsy community could temper what have been bad relations with European governments amid a hot immigration debate.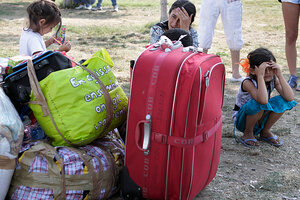 Vadim Ghirda/AP
Even as French police deported hundreds of Gypsies to Romania in late August, a devout set of 26,000 Gypsy Evangelicals gathered in the heart of France for song, testimony, and scripture.
France's high-profile deportations have put one of Europe's oldest and most vulnerable groups in a rare spotlight. They may also be a miscalculation for President Nicolas Sarkozy.
Though debate in Europe about immigration is heating up, reaction in France to this policy has been withering: The Roman Catholic church, the Socialist Party, and even many in Sarkozy's center-right party are publicly angered at a policy that appears to single out an ethnic minority as undesirable, in order to score political points.
The stereotype of the Gypsy doesn't work here
The Gypsy Evangelicals in Chaumont, France counter any stereotype. They park some 6,000 white trailers in neat rows on the grassy runway of a World War I air base. It is a "city" brought from "the north, the south, the east, and the west," as signs replete with biblical language affirm, anchored by a tent that holds 6,000 and atop of which flutter the flags of France, Belgium, the US, the EU, Germany, and the UK.
---