An ancient echo of NYC mosque debate in Córdoba, Spain
Córdoba, Spain, was a center of art and culture under medieval Islamic rule and an inspiration for the original name of the planned New York City mosque.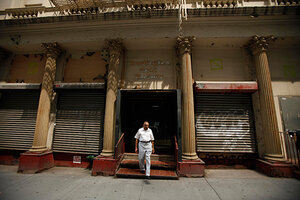 Lucas Jackson/Reuters
The debate raging in lower Manhattan and across the United States over the controversial planned New York City mosque is nothing new to Córdoba, Spain.
There the mixing of cultures and religions, both in war and in harmony, has been the norm for more than a thousand years. The Islamic cultural center and mosque that Imam Feisal Abdul Rauf hopes to build was originally named Córdoba House, after the city that was ruled by Muslims from the 8th to 13th centuries.
The city's Islamic period and longstanding arguments about its meaning – a symbol of tolerance and hope or an expression of an expansive and aggressive faith? – is an ancient reflection of the current US back and forth over mosques and their meanings, driven by the controversial project, now called Park51 after the project's location two blocks from the old World Trade Center.
Just as the planned mosque in New York is fueling controversy – as is the promise by the leader of a small church in Florida to burn Korans on Sept. 11 – Córdoba's ancient mosque, considered by some to be the finest architectural achievement of Moorish Córdoba, has been a point of contention for centuries.
---